by Courtney Morgan
History of Dalkey Archive Press
Anybody who gets into publishing, who starts a publishing operation, whether a magazine or publishing house, usually is doing it out of a state of rage or anger. You're dissatisfied with the state of something or other and… you're not even planning on correcting it; you just want to vent. The challenge I've found, of initially the magazine I started and now the press, is how to keep reinventing itself and keep finding reasons for being outraged. What's wrong now and how are we going to respond to it?
John O'Brien – UHV/ABR Reading Series


The Dalkey Archive was an accident of sorts, something happened into. From an impetus to fill a gap in the media and in academia in reviewing and discussing what were to him critical authors of our time, John O'Brien started the Review of Literary Fiction magazine in 1981. "I wanted [these authors: Gilbert Sorrentino, Paul Metcalf, Douglas Woolf, Wallace Markfield, Luisa Valenzuela] talked about," said O'Brien at the UHV/ABR Reading Series, "I wanted to know who else out there was interested… and at the same time I wanted them to be talked about and written about in an international context."
Both of these tenets have carried over into the mission of Dalkey Archive Press. With money leftover from the magazine, O'Brien decided to restore to print a few important books. The first book the press printed was Gilbert Sorrentino's Splendide-Hôtel, an author heavily featured in the Review. "But then within a year or two, a few new manuscripts arrived, ones that deserved to be in print but ones that no other publisher would touch. The relationship between the Review and the Press is this: the Review was providing criticism on overlooked writers, and the Press was in many cases publishing those same writers, or writers who belonged to a similar tradition," said O'Brien in an in-house interview. Dalkey Archive Press was born.
Read a much more comprehensive and eloquent overview of the history of Dalkey Archive Press in an interview with John O'Brien.
Aesthetic
Dalkey Archive Press eschews adjectives such as innovative, experimental and avant-garde because they imply that traditional literature is not or has not historically been this way.
"We might appear to be 'avant-garde' only in comparison to what is popular or taken seriously in the last several decades, but we are not avant-garde if you think of such writers as Cervantes or Laurence Sterne. As far as I am concerned, the history of fiction is one of invention, oftentimes playful and conscious of itself, but always pushing limits in terms of what it is and what else it can be," said John O'Brien in an interview in the Los Angeles Times.
These adjectives also imply that anyone doing anything strange or new in their writing is creating great literature. "I am very aware that there are writers who are 'experimenters,' who are trying out different forms and styles, and who are primarily interested in such experimentation. We, however, do not publish them," he said in the same interview.
Dissatisfied with the restrictive nature of these words, John O'Brien and an editor at DAP came up with the term "subversive."
"My point was that the books, in some way or another, upset the apple cart, that they work against what is expected, that they in some way challenge received notions, whether those are literary, social or political. And this is precisely the kind of fiction that I find interesting: it does things I haven't seen before, or it requires me to be figuring out how in the hell the writer is doing what he or she is doing."
Funding
From the beginning Dalkey Archive has relied on grants and funding from donors to support its mission. A nonprofit publishing house, Dalkey Archive avoids the market pressure to publish books that sell well and cut those that don't (regardless of literary merit) that drives so much of current commercial publishing. One of Dalkey's missions is to keep all of its books in print at all times, regardless of sales.
In the beginning…
Dalkey Archive would not have been able to sustain its early years as both the Review and the Press without funding support from the Illinois Arts Council and the National Endowment for the Arts. Additional significant funders stepped in during the 1990s, enabling the press to survive and to grow.
In the future…
The future of Dalkey Archive lies in endowments. As a very large small press, Dalkey Archive now faces high operating costs, in addition to the price of keeping all of its books in print at all times. As such, O'Brien sees the future of the press lying in the hands of a few wealthy donors interested in preserving the important literature of our period. Donors can choose to have a series named after them (or to name a series in someone else's name). Two such series are the John F. Byrne Literature Series and the Coleman Dowell Literature Series, both made by anonymous donors.
Translations
According to the University of Rochester, who publishes the blog Three Percent to draw attention to and conversation around international literature in the United States, the percentage of foreign translation books being published in the US is (you guessed it) about three percent. For literary fiction and poetry this number drops to about 0.7 percent. Dalkey Archive lists about 50% of their 400+ titles as translations.
John O'Brien noted in his speech at the UHV/ABR reading series that, "In the late 70s early 80s, American writers were beginning to see themselves as the only writers in the world, and they were certainly being viewed by critics as the only writers in the world."
O'Brien believed that an international context was crucial, both to talk critically about contemporary writing and for the production of literature itself. US critics, readers and authors needed exposure to what was happening in the art form around the world.
As William Gass put it in a speech to honor John O'Brien at the National Book Critics Circle awards:
"The Archive is an achievement only a determined traveling man could manage. John brings through customs books in every lingo, from – for us – remote parts of the world: Estonia, Romania, Bulgaria, Finland, Croatia, Idaho. Stateside novelists have known, since the Latin American writers shook us from our sleep in the sixties, that we were ignoramuses, but ignoramuses with an excuse: our arrogant, ignorant, self-absorbed nation cared only for the literature in our language, and if Canadian, not that. How could we have anticipated this continuing flood of competition?

Now we can get an idea of how badly beaten we have been. Dalkey Archive's list is a banner of victory. It stands for a war that John O'Brien fought almost by himself for many hard scrounging years: to keep these books in print in a language we were willing to read; to get some of them read; to teach us, as that scoundrel Columbus did, how wide the literary world is, how stocked with artistic advances we have, before now, refused to acknowledge."
"In addition to accepting unsolicited manuscripts," said O'Brien in an interview in the LA Times:
"we have a number of ways of finding books. Since we do a large number of translations, we pay close attention to suggestions from translators, who are usually very good readers and recommend only those books about which they are enthused. I personally also travel a great deal to foreign countries to meet with publishers, critics and academics to get their suggestions and recommendations. Nothing is a good substitute for such travel and the ability to have in-depth conversations with a wide range of people; this of course is a very time consuming and expensive way of finding books, but it is the most effective."
National Literature Series
In an attempt to further fill the void of books of translations in the US and to involve foreign governments in the dissemination of their nations' literature, Dalkey Archive currently publishes five national literature series. A series partnership ensures the publication in English of two to four books from the partner nation over a period of five years. Visit the National Literature Series page to learn more.
Movements and Schools
"My view is that any writer should be viewed in the context of what else is going on in the world. There's so much cross-fertilization that goes on among writers and they learn from each other and in order to understand any particular writer or movement, you really have to see what else has been going on in the past as well as the present."

-John O'Brien
American Postmodernism
In an interview by Alexander Laurence  in 1994, Gilbert Sorrentino explained his impression of the term "postmodern":
"It's a really imprecise term, despite the work of Lyotard, Jameson, Guattari, etc., etc. I tend to think of it as an extension of the problems of unresolvability, indeterminacy and fragmentation proffered in the texts of high modernism. What is more "postmodern" than Finnegans Wake or Watt or At Swim-Two-Birds? Yet they are all arguably modern texts. Borrowings, quotations, inter- and intratextualities, references, collage, fragmentation, indeterminacies, ambiguities–they're all present in these texts. Yet they are all present in 'postmodern' texts as well. One can't even mention irony, since modernist texts are full of it and some postmodern texts, like Creeley's late prose, reveal no irony at all. Maybe a better term would be late-late modernism, or contemporary modernism. You know that you're in terminological trouble when you hear clothing styles being described as 'postmodern' and movie reviewers blather about 'deconstruction' when you realize that they mean satire."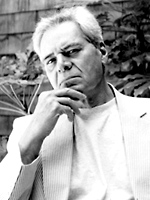 "I would like to bust the goddamn novel apart and put it together again for once and for all and prove to myself that fiction is real unto itself, that it is total invention, that it is total prose, that it is the absolute reality of fiction that matters in terms of writing fiction."

-Gilbert Sorrentino
Read more in A Conversation with Gilbert Sorrentino By John O'Brien
Splendide-Hôtel
From A to Z, from Alpha to Omega, Splendide-Hôtel encompasses the natural movement and necessity of the twenty-six letters of the alphabet to grow into words which become phrases and sentences and paragraphs. Each of the twenty-six chapters becomes an opportunity for the author to expand on images suggested by each letter, as well as to reflect upon the workings of the imagination and the art of William Carlos Williams and Arthur Rimbaud.
Rimbaud's Splendide-Hôtel, in Sorrentino's hands, becomes a hostel and haven for the poet's memorable characters and images, a "Grand Hotel" of the mind, splendidly conceived.
OULIPO
French mathematician Francois de Lionnais and writer Raymond Queneau founded the group OULIPO Ouvroir de Litterature Potentielle (Workshop of Potential Literature) in 1960. The loosely knit group attempts to bridge literature and mathematics using an array of structural constraints. The constraints, rather than being prescriptive or binding, are meant to trigger inspiration.
"We don't generally dwell upon the ordinary, for, believing its terms to be obvious, we leave them unsaid. And in consequence our cultural forms are largely unequipped to represent it. What Jouet provides here is a glimpse of the world that we thought we knew, insisting very closely on crude detail in an effort to persuade us that the commonplaces of our lives deserve to be reexamined. It is a humanist poetics, in short, and such a stance subtends much of Jouet's work from that point forward.
"Jacques Jouet has grouped his novels and several pieces of short fiction under the general rubric 'The Republic Novel.' Broadly speaking, each of the texts included in this ongoing project speaks in some fashion about contemporary society and the politics through which it is governed. That is not to say that these works are examples of a narrowly defined littérature engagée bound to a particular political orthodoxy. To the contrary, Jouet's social critique is constantly mobile, playing upon the more egregious of society's contradictions in a variety of perspectives. It is moreover principally ironic and interrogative in character, rather than prescriptive."

-Warren Motte
Read more in Reading Jacques Jouet in Context
Further Reading: In Conversation, Jacques Jouet and Anita Konkka
Savage
Based on the life of Post-Impressionist painter Paul Gauguin, Jacques Jouet's Savage compels the reader to ask whether it is the primitive or the civilized man who is savage. At the height of the Belle Époque, an eccentric young clothing designer searches for inspiration and identity as an artist among the "savage" peoples of France's colonies. Influenced by several exotic lovers, a quirky vieille dame, and Édouard Manet himself, Paul's increasingly unconventional designs parallel his increasingly unbalanced state of mind as he struggles to find a market for his work among the haute bourgeoisie. The failure of this venture, coupled with psychosis due to an untreated illness, ultimately leads to his demise.
Roman Nouveau
Roman Nouveau refers to a group of writers in France in the 1950s (lumped together more by the media than their own sense of connection), who focused on style and ideas, rather than the standard plot, narrative and action.
"One of the joys of reading Pinget's novels one after the other is to perceive, time and again, how consistently and free-spiritedly he maintains inconsistencies in his writing, both in detail and overall literary philosophy. It is a literature that espouses liberty—and practices it.
"American literary historians looking at French literature, and the New Novel in particular, tend to emphasize formal experimentation, neglecting in the process the stylistic labors that are extremely important for understanding a writer like Pinget. (Claude Simon is obviously another.) His style, in its highly conscious, learned, significant yet not always radical departure from classical stylistic norms, is an essential ingredient in his accomplishment. Questions of colloquial syntax, elision, punctuation, and, once again, 'breathing,' are all important. He was a particularly subtle and artful stylist because, for all his delight in creating narrative contradiction and confusion—these cognitive entanglements posited as emblematic of 'truth'—his books remain eminently 'readable,' to cite the touchstone so often flouted in the faces of "difficult" French authors."

-John Taylor
Read more in Reading Robert Pinget in Context.
Mahu or the Material
In the tradition of Flann O'Brien's At Swim-Two-Birds, Gilbert Sorrentino's Mulligan Stew, and Raymond Queneau's The Flight of Icarus, Robert Pinget's Mahu or The Material tells the story of Mahu, a lazy man who may be a character in his friend Latirail's failing novel, which is taken over by characters invented by Sinture, yet another writer. The latter half of the novel consists of Mahu's strange and hilarious musings on everything from belly dancers to how he catches ideas from other people in the same way he catches germs.
Mahu is Pinget's funniest novel, featuring a mix of dark humor and manic word-games, and is as inventive and energetic now as when it was first published.
Crack
1. The Crack novels are not small, edible texts. They are, rather, a barbecue: let others write the steaks and the meatballs. Between that which is disposable and ephemeral, the Crack novels oppose the multiplicity of voices and the creation of self-ruling worlds, which is not a tranquil task. First commandment: "Thou shall love Proust above everyone else."

2. The Crack novels are not born from certainty, which is the mother of all creative annihilations, rather from doubt, the older sister of knowledge. There is not one kind of Crack novel, but many; there is not one prophet, but several. Each writer discovers his own breed and shows it proudly. Descendants of champion fathers and grandfathers, the Crack novels take all their risks in stride. Second commandment: "Thou shall not covet thy neighbor's novel."

3. The Crack novels are ageless. They are not novels of formation, and Pellicer's phrase reemerges: "I am old, and believe that the world was born with me." They are not, therefore, the first works of their authors, sweet temptations of autobiography; they are not about first loves or family histories, which underline everything. If the writer's most valued possession is the freedom to imagine, these novels go much further, demanding more from their narrators. Nothing is easier than to write about oneself; nothing is more boring than a writer's life. Third commandment: "Thou shall honor schizophrenia and listen to other voices; let them speak through your pages."

4. The Crack novels are not optimistic, rosy, adorable novels; they know, as much as Joseph Conrad does, that being hopeful in an artistic sense does not necessarily imply believing in the world's kindness. Or they search for a better world, being aware that such a fiction can exist only in a place we will never know. The Crack novels are not written in the new Esperanto, which is the language standardized by television. It is the celebration of language and a new baroque: of syntax, lexicon, and the morphological game. Fourth commandment: "Thou shall not take part in a group that accepts you as a member."

-Pedro Ángel Palou, from the "Crack Manifesto."
"After the 1960s, though—after the Boom—it seemed like there were no books coming out that had the same level of quality and ambition, no novels that were difficult and complex and challenging and profound. To us, many of those books [of the Boom] are milestones of literature. We wanted to pursue that line, that tradition. We saw that if there were ever going to be more books in that tradition of Vargas Llosa, Fuentes, and Borges, we would have to write them ourselves."

-Eloy Urroz
Read more in the interview by Theodore McDermott in Context.
The Obstacles
One of the most remarkable books of contemporary Mexican literature, The Obstacles is the story of young writers coming of age in a world dominated entirely by their own fictions. It tells, in alternating chapters, the stories of two teenagers, Ricardo and Elias, who are characters in each others' novels.
Ricardo lives in Mexico City with his mother, who is mourning the recent death of her husband. Elias, an orphan, lives in Las Remoras, a town on the Baja Peninsula that has been invented and meticulously imagined by Ricardo.
Blurring our notions of reality and fiction, Eloy Urroz takes the reader into a world where characters invent characters and challenge their creators. And the book's conclusion—in which a surprising connection between Ricardo and Elias is revealed—shows that not even fiction can be controlled in a world of such incredible unpredictability.
Further Reading
From an interview in the LA Times:
JC: What are some of the best books of the last five years that we haven't heard of? What makes them so good?
JO'B: This is really difficult to answer because there are so many. "Vain Art of the Fugue" by the Romanian writer Dumutru Tsepeneag is a masterpiece: comic, sad, inventive, all working out of a simple structural principle of a man catching a tram and trying to get to a train station to meet a woman; this scenario is repeated in a variety of ways (thus the title). One reads this and thinks, "How simple an idea! Why didn't anyone do this before, or do it in this way?" And yet it is not the "idea" of the form but its execution that makes this work so compelling.
Another is Micheline Marcom's "Mirror in the Well," an obsessive novel about a woman, apparently happily married, who has the time and opportunity to try to "find herself." She proceeds to have destructive sexual affairs that cheapen and degrade her. Marcom is working in a very risky area here, writing about the truly liberated woman who has to come to terms with her freedom to do as she wants, and this freedom destroys her. No other woman writer I know has looked at this subject, or at least not the way that Marcom does.
A third one is non-fiction, Viktor Shklovsky's "Energy of Delusion," whose overt purpose is to figure out how Tolstoy wrote "Anna Karenina." As Shklovsky did for a lifetime, though not a single work of his criticism was translated from Russian until Dalkey published his "Theory of Prose" almost 20 years ago, he uses Tolstoy as a way of exploring how writers write, how they select one method rather than another, how else could they have done something. Shklovsky is one of a kind, and it's terribly unfortunate that he wasn't translated into English many, many years before because I think his work would have changed how we think about and approach literature. Brilliant as he is, Shklovsky always approaches a book or writer with utter humility, asking the simplest of questions and then speculating on possible answers. In the process, he opens up the world of fiction in all of its glory and complexity.
A final note from John O'Brien on the direction of art today…
"We're in a strange time in which art is marginalized in public practices. The best thing that could happen for art in this country–I'm half-serious in saying this–is that censorship would be imposed. Art would suddenly come through a level of awareness that I don't think it has in contemporary America, especially literature. We had a critic take issue recently with a book who said, 'The problem with this book is the characters are not likable.' Was Raskolnikov likable? I mean, would you like to live next door to Hamlet? That should be the first act of censorship: Characters cannot be likable for 25 years. And no happy endings." From John O'Brien: The Man Who Would Ban Happy Endings by Micheal H. Miller in the New York Observer.